iHealth COVID-19 Rapid Antigen Test (OTC) (2 tests/box)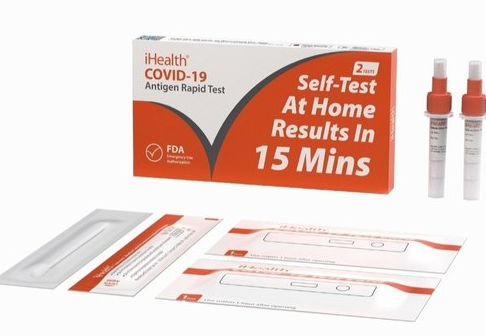 iHealth COVID-19 Rapid Antigen Test (OTC) (2 tests/box)
Looking for a reliable and easy-to-use COVID-19 testing solution? Look no further than the iHealth Rapid Antigen Test. This OTC test is perfect for employers or individuals who want to quickly and easily screen for the virus. With native optimized mobile apps and an intuitive UI, the iHealth Rapid Antigen Test is easy to use.
Automated results reporting makes it even easier to keep track of your results. And integration with existing employer portals and apps makes this test a snap to set up and use. Most importantly, the iHealth Rapid Antigen Test is highly accurate, with a PPA of 85-88%. So you can be confident that you're getting accurate results. 
CONTACT US FOR BULK ORDER
Please be advised that carrier delays are out of our control.   These items are Non-Returnable once shipped. 
For use under an Emergency Use Authorization (EUA) only for the duration of the COVID-19 declaration justifying the emergency use of in vitro diagnostics (IVD), unless it is terminated or revoked by the FDA (after which the test may no longer be used)
The iHealth COVID-19 OTC Antigen Test is authorized for non-prescription home use with self-collected direct anterior nasal (nares) swab samples from individuals aged 15 years or older or adult collected direct anterior nasal swab samples from individuals aged two years or older.
iHealth OTC COVID-19 Antigen Self-Test is intended for the qualitative detection of SARS-CoV-2 nucleocapsid protein antigens from individuals with or without symptoms or other epidemiological reasons to suspect a COVID-19 infection when tested twice over two or three days with at least 24 hours and not more than 48 hours between tests.
FDA/EUA authorized for over-the-counter use
98.1% accuracy
Native optimized mobile apps (app available in both Apple App Store and GooglePlay), intuitive UI

Easier, automated reporting of results
Reduced liability and costs
Easy integration with existing employer portals/apps

Detect SARS-CoV-2 nucleocapsid protein antigen
Instructions for Use at Home HERE
Healthcare Provider Instructions for Use HERE
Fact Sheet for Health Health Providers HERE
Rapid results within 15 minutes
Expiration Date: If you receive a box that has an expiration date that has past, please do not be concerned. The state department has granted an extended expiration life by 12 months from the expiration date printed on the back of the box for these tests.