FlowFlex COVID-19 Ag HomeTest (OTC) (1 Tests/Pack)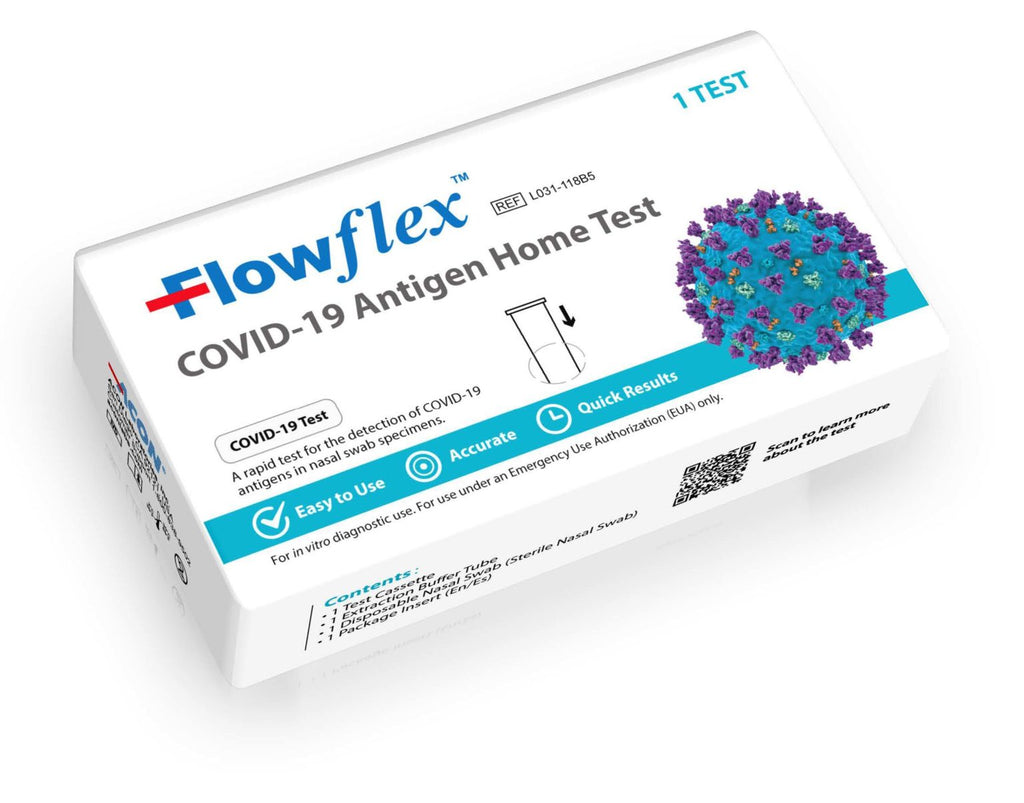 FlowFlex COVID-19 Ag HomeTest (OTC) (1 Tests/Pack)
Do you want to be able to enjoy the upcoming holidays without worrying about COVID-19? FlowFlex has you covered! The FlowFlex COVID-19 HomeTest is a quick and easy way to test for the virus. It is authorized for use by patients with or without symptoms and is 93% accurate.
Results come back in just 15 minutes, so you can get on with enjoying your holiday gatherings. The test can also be used on children aged 2 and up. So now everyone in your family can have peace of mind this holiday season. Order your FlowFlex COVID-19 HomeTest today! 
CONTACT US FOR BULK ORDER 855-564-8398


Highlights
NO PRESCRIPTION REQUIRED - AUTHORIZED under FDA EUA, for home use.

DETECTS ACTIVE COVID-19 INFECTION – Antigens indicate active disease, find out if you have COVID-19 by performing a painless nasal swab.
TEST ONCE, unlike other tests, no need to retest a couple of days after the 1st test, unless new symptoms appear!
NO SYMPTOMS Needed - The Flowflex COVID-19 Home Test has been authorized to test patients with or without COVID-19 symptoms.
QUICK – Get Results in 15 minutes. Straightforward and easy to read.
ACCURATE. RESULTS that let you enjoy family time, while worrying less about COVID-19.
Clinical performance showed 93% sensitivity and 100% specificity.
TEST CHILDREN AGES 2 and up, who are too young for vaccinations. Now everyone can enjoy the family for the upcoming holidays.
EASY TO USE. All components, and step-by-step instructions, needed to test are included. An instruction video is located at FlowflexCOVID.com
SMALL PACKAGING. Makes it the perfect test kit for traveling and testing on the go. Easily fits in a purse or a small bag. Small enough to be a stocking stuffer!
Specifications
Results Timing:
15 Minutes
---
Test Substance:
Nasal Mucus
---
Results Indication:
Positive: Test Line Visible
---