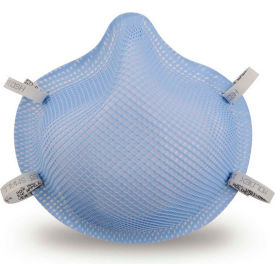 1511 Moldex 1511 1500 Series N95 Respirator and Surgical Mask, S

20/Bx, 8Bx/cs

Features:


Meets CDC guidelines for protection against TB.
NIOSH certified to have a filter efficiency of 95% or greater against non-oil based particulates.
Highest ASTM level of fluid resistance on the market(160 mm Hg).
Bacterial filter efficiency >99.9%.
Latex and PVC-Free.

Dura-Mesh; shell resists collapsing in regular use and even under hot and humid conditions.
Contour molded nosebridge for extra comfort.
Soft foam nose cushion for an easy and comfortable fit.
Softspun; inner lining is soft to the touch.
Certified under 42CFR84.
Meets heat and flame resistance in accordance with ANSI/ISEA 110-2003 Section 7.11.1.